The Albrecht Kolpack Branch
---
Harold (Jake) Kolpack died in 2002. This is his eulogy:
When someone lives a long, full life such as Jake did, it takes a village to remember his life. Jake is one of very few remaining who spent his entire life in Gilman. We measure a man's life not by the wealth, degrees, or positions he has attained. Rather, it is measured by how he lived his life; by the friends he has made; by the people he has touched. By that measure, Jake stands very tall.
When he got out of the Marine Corps in 1944, at age 33, he started Jake's Bar. Some will remember the booming post war years. On Friday nights, Gilman's main street and side streets were packed with cars: people in town for shopping, the movies, and socializing. Jake's Bar was always filled to overflowing: the center of the social scene. Jake did not allow foul language or lewd behavior. He kept order. His establishment was always clean. No-one served a finer glass of beer. The temperature and head of foam had to be just right. The bar was a favorite repeat stop for many travelers. There were parties. The most memorable were the New Years Eve parties, with ham sandwiches of Pat's wonderful home made bread, and friends turning out to celebrate.
He purchased four Green Bay Packer season tickets in 1944. The trips to Green Bay for home games always started after Mass on Sunday morning. We watched for many years as the entourage departed, often with all the cold weather gear they could pack into the car. Traveling 170 miles in the 1940s was not easy. The Packers in those days were not a winning team, but Jake kept the tickets, and the spirit.
Pat and Jake married in 1952. Pat would sometimes go along to the games, but mostly she stayed behind to run the bar. The entourage changed through the years. Early on, it was Frank Kondrasuk, Benny Lewan, and others. Later, it became some of the teachers (Doug Chickering, John Tereshko), and Tom Kowalczyk. They always stopped at a bar in Hatley on the way home. John Tereshko became acquainted with Marcia, the daughter of the owner of the bar, and they later married.
Then the Packer Glory Years of the 1960s began, and television let us all have a window to the excitement. We became huge Packer fans. The true fans were Jake and those who accompanied him. We will never forget the partying that went on at Jake's when those of us who were there to watch the "Ice Bowl" victory over Dallas were still around to greet the four who returned from the game. Was Jake the best Packer fan in Gilman? Without a doubt. Was he the best in Taylor County? Probably. Does he deserve to be in the Packer Fan Hall of Fame? He is, in our hearts.
The Detroit Tigers were his favorite baseball team. In the late 1950s he went to Minnesota to watch them play the Minnesota Twins. He sat in the right field stands and caught a home run hit by Norm Cash of the Tigers. The ball was displayed on the back bar.
They became a family when daughter Karen came into their lives. She became the answer to their prayers. When Karen blessed them with their wonderful, beautiful granddaughters, their lives became complete. They had so much love to give. Gordon Dietzler, who lived across the alley, commented on the patience Jake had when teaching his visiting granddaughters to ride the bicycle. He was very proud of his nieces and nephews. He loved nephew "Joey" so much. Seeing them together made you realize Jake's compassion. He made Joey's short life as happy as he could.
Jake never defamed anyone. Did anyone ever hear a bad word about Jake?
Like many in his generation, he thirsted for knowledge. When the Milwaukee Journal still had a "Green Sheet" you would find him with it, working the daily crossword puzzle in slack times.
He always looked neat, in casuals or his "Sunday best." You never saw him unkempt. He had an aura about him that some people seem to acquire. He and Pat made a handsome couple.
He kept himself in excellent physical condition: no small feat for a person who closed in the wee hours and awoke early. He did calisthenics to stay fit. He was an outdoorsman to the extent his schedule would allow. He hunted deer. It was usually a short hunt. He had his "honey" stand north of Jump River and usually got his buck early in the season. He took up golf in his later years. He was probably pretty darned good.
He also loved dogs. Between 1945 and 1955 I can remember: a Springer Spaniel; Rusty, the Doberman; Duke, the Boxer; Misty, the Weimeraner. Katie Dietzler used to say: "Poor Jake, he sure has tough luck with his dogs." They bought Karen a Schnauzer, "Snoopy", that nestled in his bed in the bar after Karen left home, and greeted customers. A sign on the back bar read: "In his lifetime a man deserves a good woman and a good dog". He was blessed with both.
He never lost his good humor. He did not let the alien, cancer, change him. He was bigger than that. He never lost the smile we came to know and love. We will remember his infectious laugh. When I listen to Dave Letterman's laugh it reminds me a little bit of Jake's.
A story depicts Jake in action:
On night, near closing, in the summer of 1960, a boisterous teen from a town on Highway 29 came in to purchase beer to take out of the bar. Jake asked for his ID. The youth looked older than his years, and was playing the role and would not furnish ID. Jake refused to sell him the beer. He became belligerent. Jake came out from behind the bar and physically ushered him out the door. There were a couple of cars and more teens outside on main street, and they started to act as if they would cause trouble. The few of us and Jake were inside the front door. Jake grabbed an awning crank he kept in the corner: its shaft was long like a gun barrel. He cracked the screen door and thrust the shaft through the crack and shouted: "Bang, bang, you're all dead." They jumped in their cars and left in a hurry.

We all had a good laugh: Jake the loudest.
When they sold the bar in 1998, Gilman lost something that can never be reclaimed: another personal link to the good old days.
Jake is eternally thankful to Pat, Karen, and the girls for making his life complete. Because of you, he is smiling even now.
We thank God for giving us Jake. He touched us all and made the world a better place.
---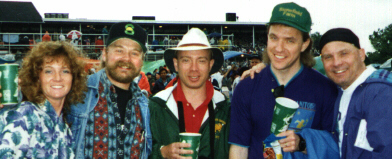 Karen Silvers, Bruce Kolpack, Jeff Kolpack, Tim Sellnow, Dave Kolpack
Kolpack brothers and cousins at the Kentucky Derby
---

Albrecht Branch Records
---